The #1 Dumpster Rental & Junk Removal Calallen Has to Offer
When you work with Corpus Dumpster Rentals, you can rest assured you're receiving the best dumpster rental Calallen has to offer to effectively manage the waste during your repair, renovation, demolition, or cleanout project. The team at Corpus Dumpster Rentals has built a solid reputation by offering excellent service along with practical and affordable roll-off container rentals. We're confident we can meet your waste disposal needs, whether you're in the early stages of overseeing a housing development or cleaning out your garage. As your all-inclusive waste removal provider, we handle every aspect of the disposal process, from professional dumpster delivery to hands-on junk removal services. No project is too big or small for our team of trash experts. We are pleased to provide delivery in Calallen, Texas, and the nearby Nueces County communities. We frequently collaborate with business owners, community organizations, contractors, property managers, homeowners, and other parties to quickly and effectively deliver unbeatable customer service. Make as few landfill visits as possible and prevent any wear and tear on your vehicle with the help of our driveway-friendly bins. We are confident that you'll finish your upcoming project without a hitch with the support of our positively-reviewed options for a dumpster rental Calallen residents trust. For more information on our rates and dumpster sizes, get in touch with our team or use our convenient online booking tool to reserve a bin with a few easy clicks. We're here to walk you through your choices and make scheduling the dumpster rental Calallen residents and contractors trust as simple and straightforward as possible. You can reach us by phone at (361) 371-0779, or you can fill out the form on our contact page to receive an email response from a member of our staff. Let us manage the mess while you focus on more important aspects of the task at hand. Book online today!
Holds 3x Pickup
Truck Loads
Holds 3x Pickup
Truck Loads
Holds 3x Pickup
Truck Loads
We Take Just About Everything
Some examples of the junk we haul away include
Refrigerator Disposal

Garbage Removal

Mattress Disposal

Foreclosure Clean Outs
Construction Waste Removal

Yard Waste Removal

Trash Removal

Appliance Removal
Television Disposal & Recycling

Furniture Removal

E-Waste Disposal

Hot Tub Disposal
Many Convenient Uses for a Dumpster Rental Calallen TX Residents and Contractors Depend On
Get started on a residential or commercial project with confidence when you use a heavy-duty dumpster rental in Calallen TX can count on to help get the job done right the first time. Clear out an apartment complex, prepare for a residential driveway demolition, or declutter the attic and garage with our driveway-friendly, industry-grade, easy-to-load roll-off bins. We work with business owners, property managers, contractors, local organizations, school districts, and residents to help clear away waste in an efficient and economical way. No one has hours to spend making multiple costly trips to and from the landfill, so let us handle the stressful part of the waste disposal process. Just fill up the can, give us a call when you're finished, and we'll haul it out of sight.

In an effort to implement sustainable practices and follow all local regulations, we work directly with the Cefe Valenzuela Landfill to dispose of waste responsibly. It's our goal to help keep our communities waste-free and enjoyable places to live or visit by offering affordable and reliable services year-round. Our containers are built to contain and haul away a range of waste, including construction debris, yard waste, furniture, appliances, and other general garbage. If you need more information about acceptable items, get in touch with our team and book the #1 dumpster rental Calallen TX has to offer to get started on your project today!
Use the Dumpster Calallen Homeowners Trust for Remodels and Cleanouts
Get started on that fun DIY home improvement project with the help of a residential dumpster for Calallen homeowners depend on to clear away materials and debris in a quick and efficient manner, giving you the time and space to focus on beautifying your home, landscape, or rental property. Whether you're tearing up old flooring to make way for the new, demolishing a worn-out sidewalk, or repairing your roof, our driveway-safe roll-off bins make it as easy as possible to clear the waste.

There are many practical reasons to schedule a residential dumpster rental Calallen TX homeowners can trust, but some of the most popular for local residents include garage or attic cleanouts, one-room remodels, roof repairs, driveway, shed, deck, or sidewalk demolitions, landscaping improvements, downsizing projects, full-scale hoarding cleanouts, furniture or appliance removal, and so much more. If you need any additional information, get in touch with our team. You can also quickly and easily make a reservation online!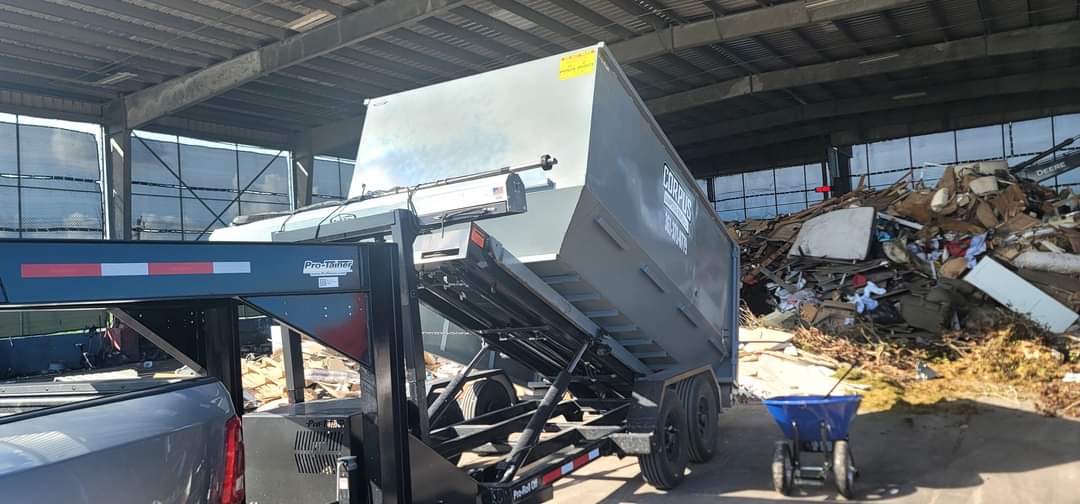 Driveway-Friendly Dumpster Rental Corpus Residents Use for Outdoor Projects and Yard Work
Redesign your landscaping and increase your curb appeal with the help of a dumpster rental Corpus homeowners and property managers use to clear away yard debris in a safe and convenient manner. Trim the overgrown branches in your yard or clear away brush after a bad storm on your own schedule with the ease of an open-top container. Sometimes our usual trash bins can't handle the amount of waste we need to have hauled away, which is where our durable and dependable services come into play.

With the added support of a garbage dumpster rental Calallen TX property owners depend on, you can clear away branches, limbs, brush, lawn trimmings, and other yard debris, as well as waste from outdoor projects like roofing repairs, deck demolitions, or general maintenance work. Book one of three available dumpster sizes online and get started on your landscaping efforts today!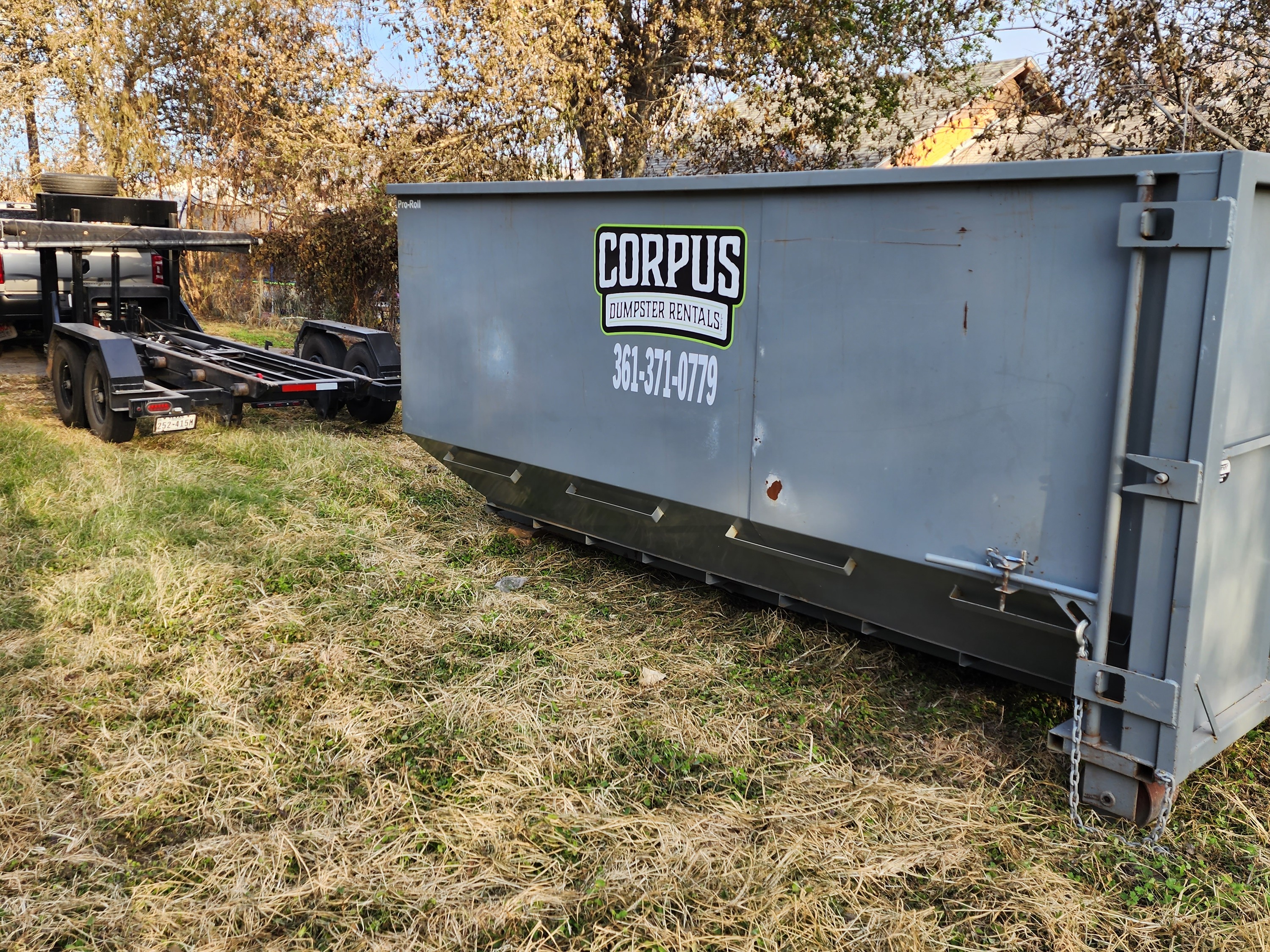 Choose the Roll Off Dumpster Rental Calallen Contractors Use Year-Round
Use the roll off dumpster rental Calallen contractors and construction professionals count on to keep their jobs on track while simultaneously keeping their work sites safe and free of bulky, potentially hazardous waste. Whether you're managing an upcoming commercial roof replacement project or are in the thick of a housing development project and need a bin delivered ASAP, the professional and experienced team at Corpus Dumpster Rentals is here to help.

We carry three versatile and convenient options for a construction dumpster rental Calallen TX contractors trust to keep their work sites waste-free. Our industry-grade bins are equipped to contain and haul away a range of materials, including shingles, tile, plastic, piping, lumber, and other construction waste. Choose from our options online and get on our schedule today!

Durable Roll Off Dumpster Rental Calallen Texas Roofing Professionals Rely On
Repair a roof with ease with the help of our roll off dumpster rental Calallen Texas roofers rely on to keep their job sites safe, efficient, and on the right track. Our commercial-grade bins are able to contain and haul away a broad scope of roofing waste, including asphalt, tile, lumber, nails, shingles, piping, plastic, and other general debris.

Whether you're replacing a roof entirely or making minor commercial roof repairs, it's always a beneficial idea to have an easy-to-load, accessible roll-off dumpster on site to keep debris contained and out of harm's way. Our container experts have years of experience helping to keep local construction and roofing sites on schedule and under budget by managing waste. Get on our books using our online scheduling tool or give our team a call to learn more about long-term rental options.
Commercial Budget Dumpster Calallen Business Owners Choose
Book the commercial budget dumpster Calallen business owners rely on for cleanouts, repairs, remodels, or general waste containment on a short or ongoing basis. Whether you're seeking a same-day drop-off to complete a quick cleanout project or are looking for long-term waste management support, Corpus Dumpster Rentals is here to help!

Keep your visitors, employees, customers, or residents happy with the added support of a trash dumpster rental Calallen TX counts on for clear-cut, efficient, and cost-effective waste removal. Get in touch with our team of experts to discuss your options or book one of our available dumpster rentals using our online scheduling tool today!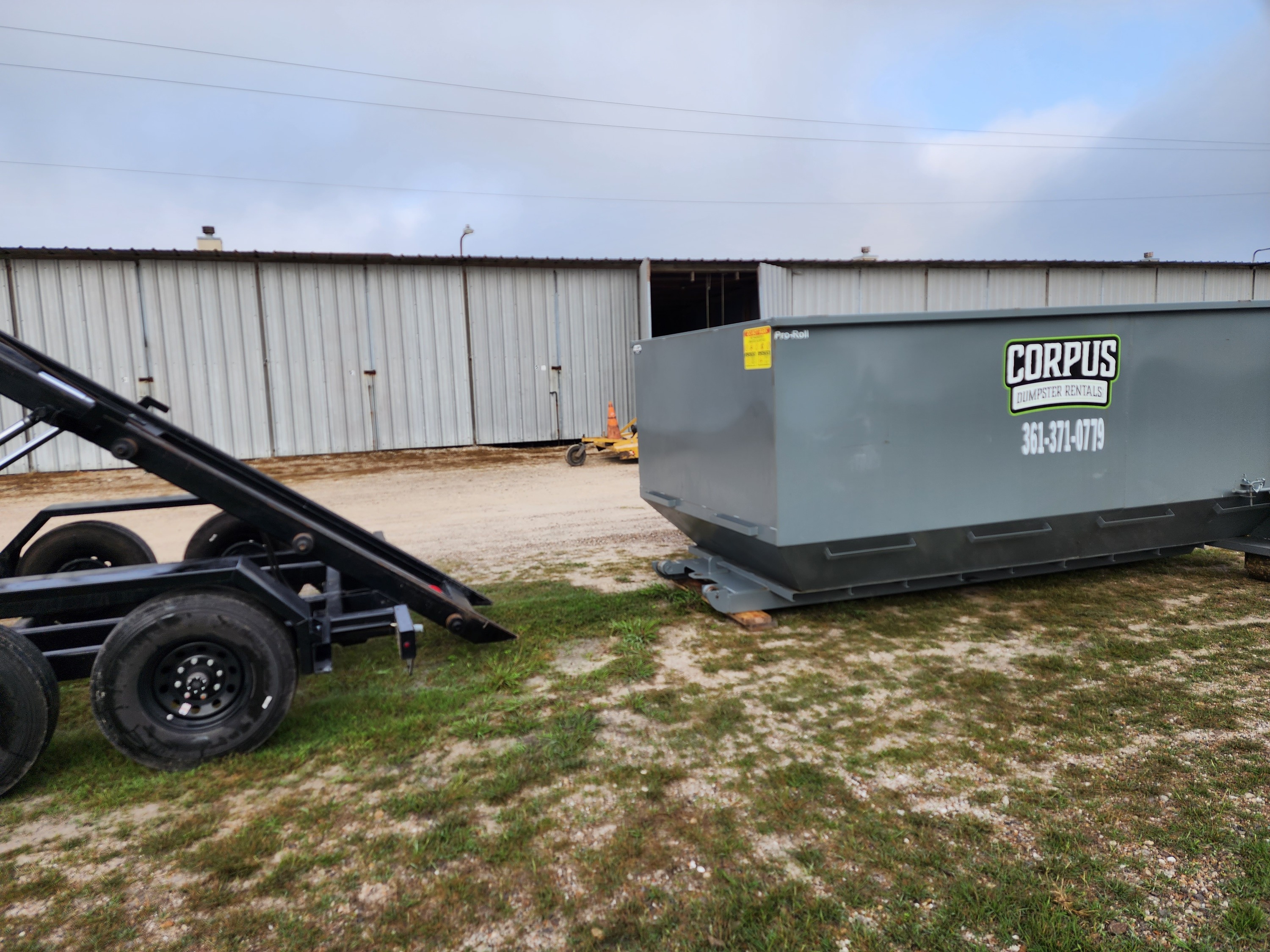 Why You Should Choose Us for Dumpsters Calallen
Choose Corpus Dumpster Rentals for the best dumpsters Calallen residents, contractors, businesses, and individuals can depend on for any project. We've built a positive reputation for providing friendly and helpful service, versatile sizing options, and guaranteed on-time delivery. Our staff is always available to answer any questions, address any concerns, and make sure you make the best choice for your specific waste disposal needs.

We partner with industry-leading commercial manufacturers to supply top-of-the-line dumpsters that are easy to load and have the latest safety features. All of our units are driveway-friendly and our professional drivers have years of experience delivering and placing bins in an efficient, careful manner. Whether you book a small dumpster rental Calallen TX homeowners use to complete a range of projects or a big bin for construction or roofing work, our containers are well-equipped to handle the waste while keeping your work site free of bulky, unwanted materials.

Along with our heavy-duty, durable dumpsters Calallen uses to complete a broad range of projects, we offer reliable junk removal services to handle 100% of the heavy lifting for you. We're your one-stop waste disposal shop, available to manage the mess and relieve the stress so you can focus on more important aspects of the task at hand. We make it as simple as possible to get on our books and have a bin delivered in no time. Review the steps for reserving a bin online below!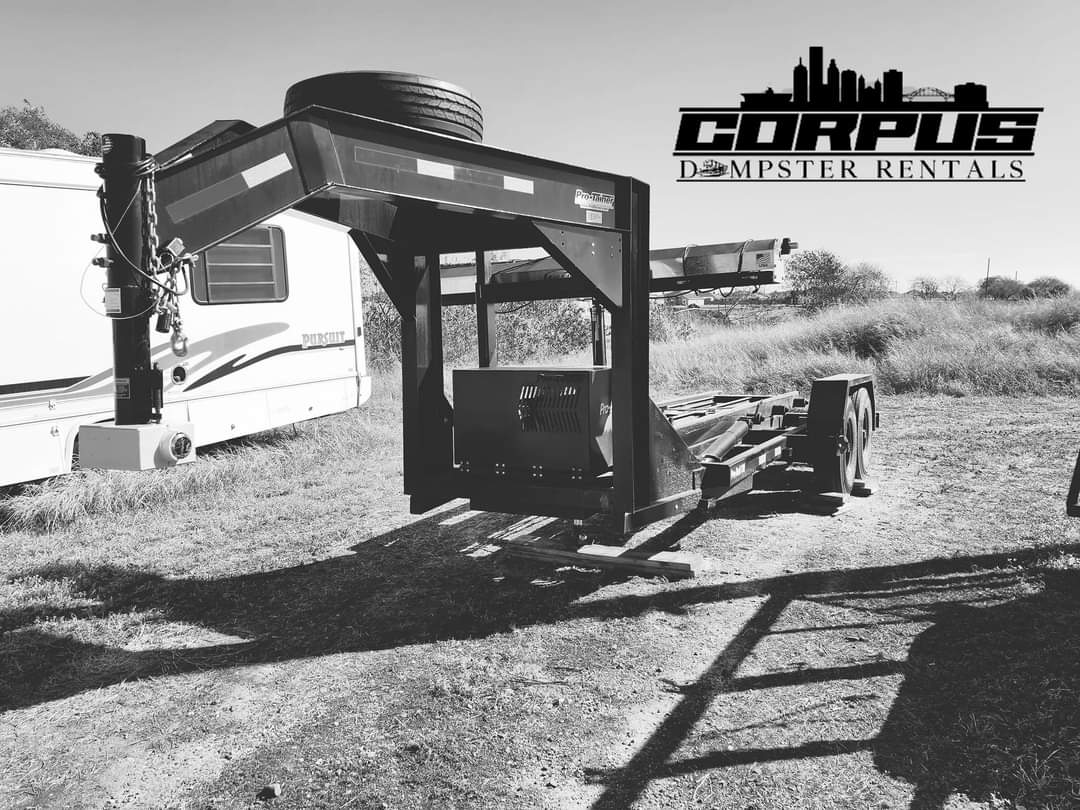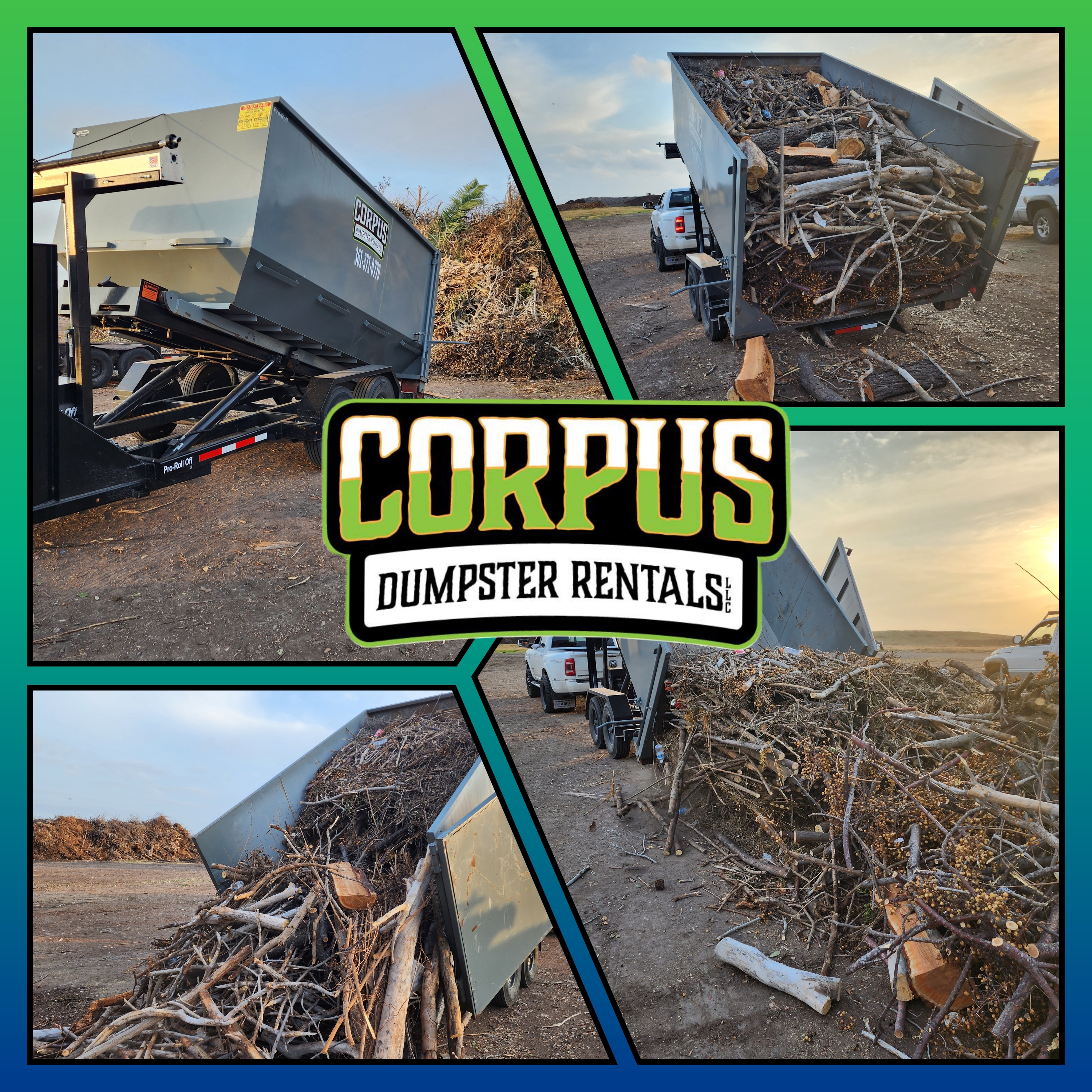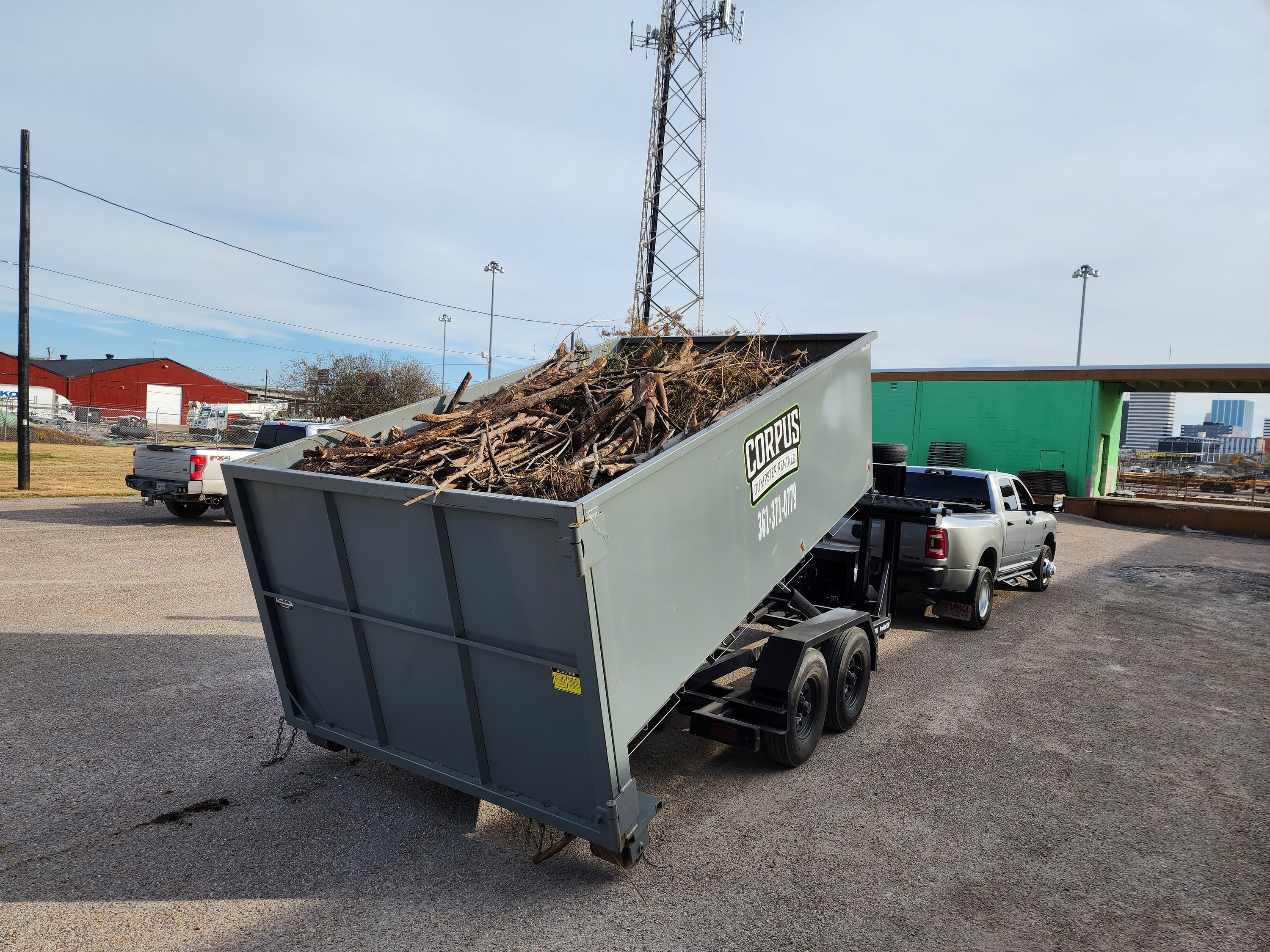 Book a Calallen Dumpster Rental Online With a Few Easy Clicks!
We make scheduling a Calallen dumpster rental as simple and straightforward as possible through our online booking system! Give us a call at (361) 371-0779 to chat with one of our team members about making a reservation or use our online scheduling system to schedule a delivery today. When scheduling the best ​​dumpster service Calallen TX has to offer through our website, follow the steps below:

1) From any page of the website, click the lime green "Book Now" button in the upper right corner or the "Dumpster Rental" button in the menu bar.

2) View the dumpster sizes we have available, then select the "Schedule Now" button next to the cost.

3) Review the dimensions for the large dumpster rental Calallen TX uses for a range of projects, the rental time period, included tonnage, and possible additional charges for extra days or tonnage, then click the blue "Schedule Now" button.

4) Select the service type (residential or commercial) then click the "Continue" button.

5) Select your drop-off and pick-up dates.

6) You will then be taken to your cart to view the base cost plus any extra days, tax, and the total. If you're ready to check out, click the lime green "Checkout" button in the lower right corner.

7) Input contact, billing, dumpster placement, and important information, then digitally sign the rental contract before clicking the lime green "Continue" button.

8) Submit payment information using any major credit card and complete the checkout process using our secure system.

A digital copy of the signed contract and a confirmation email will be sent to you. Prior to the drop-off date, a member of our team will get in touch with you to confirm a delivery window that fits your schedule the best. Don't hesitate to contact our staff if you have any questions about how to reserve your Calallen dumpster rental.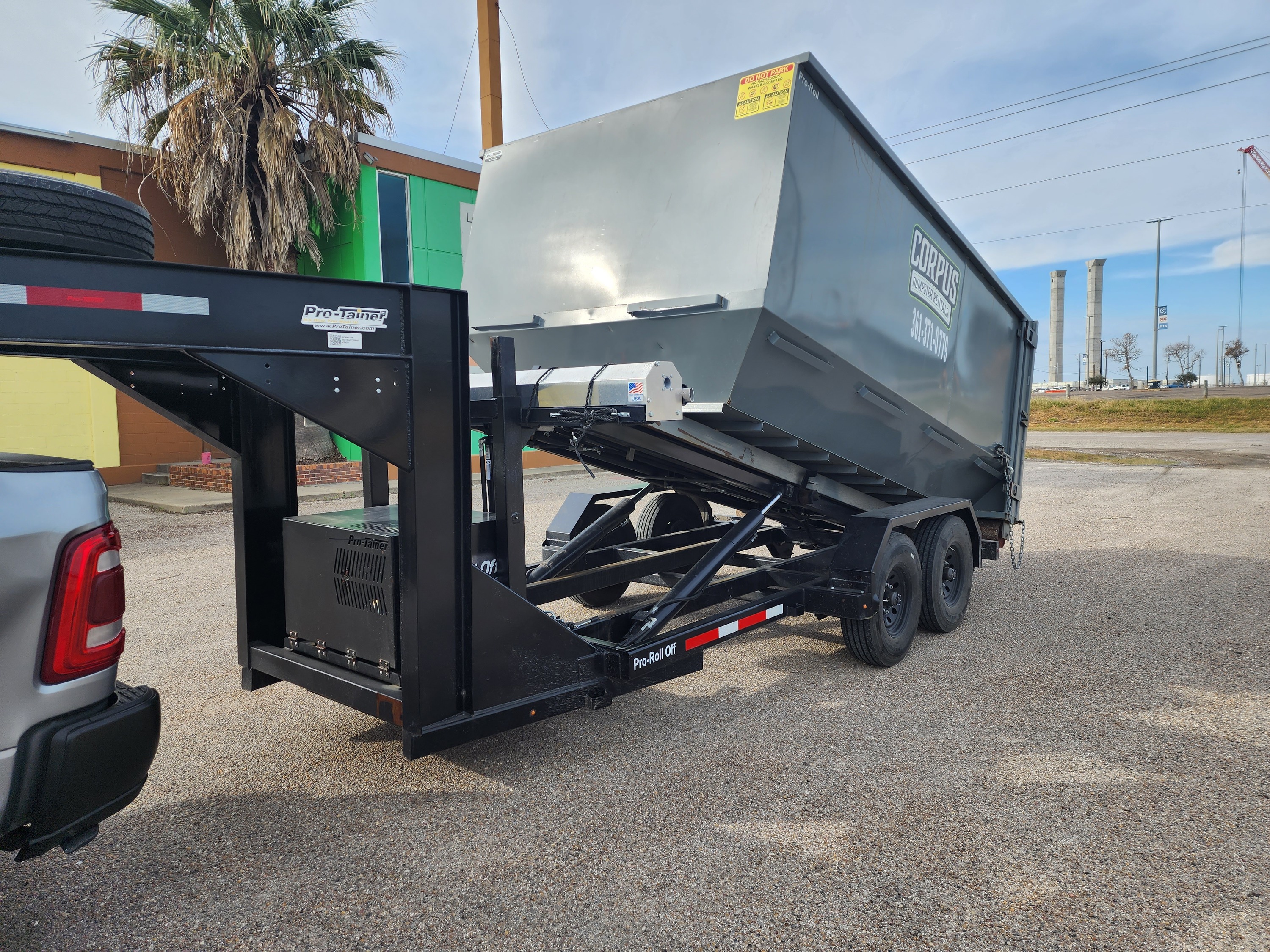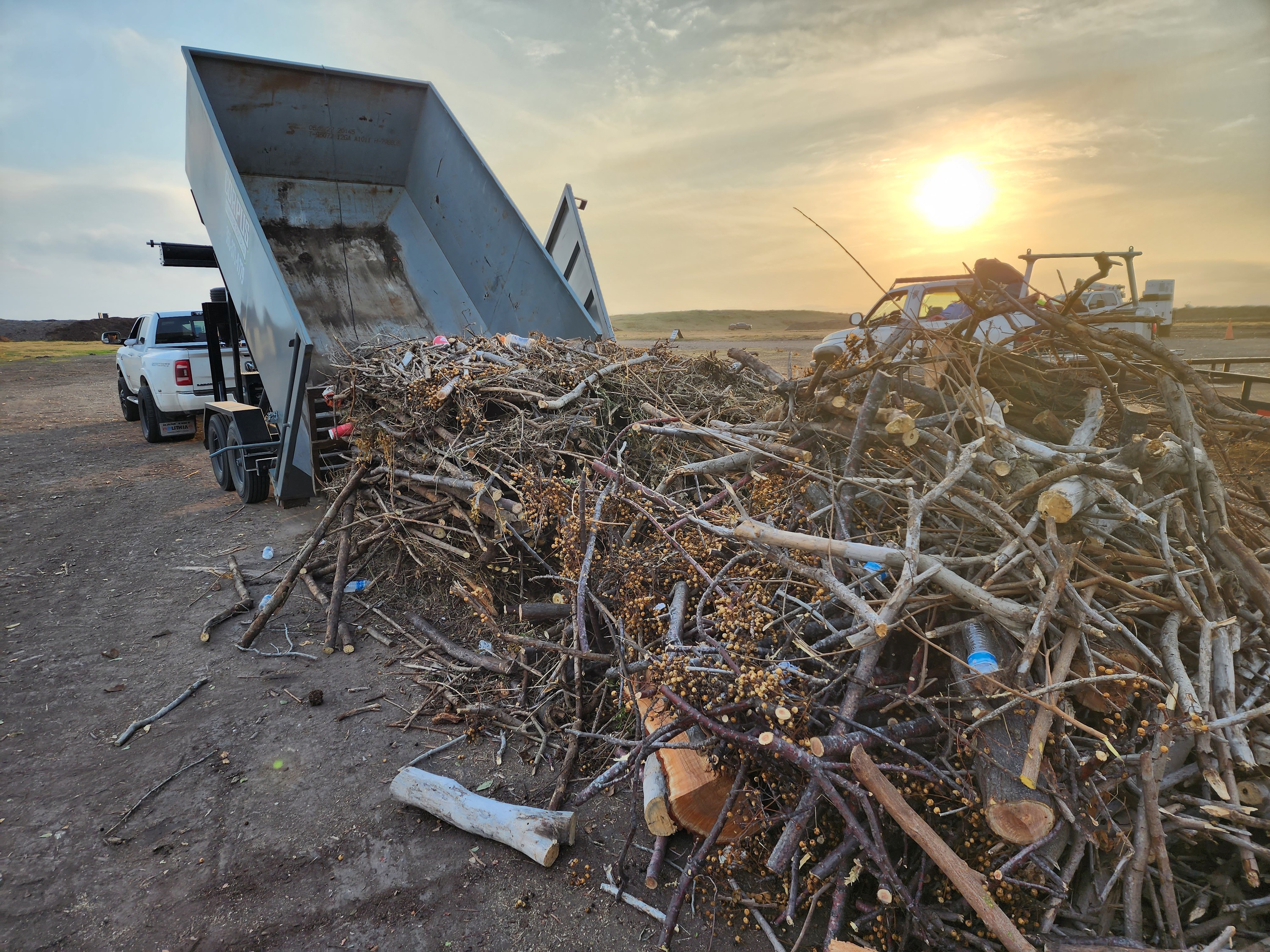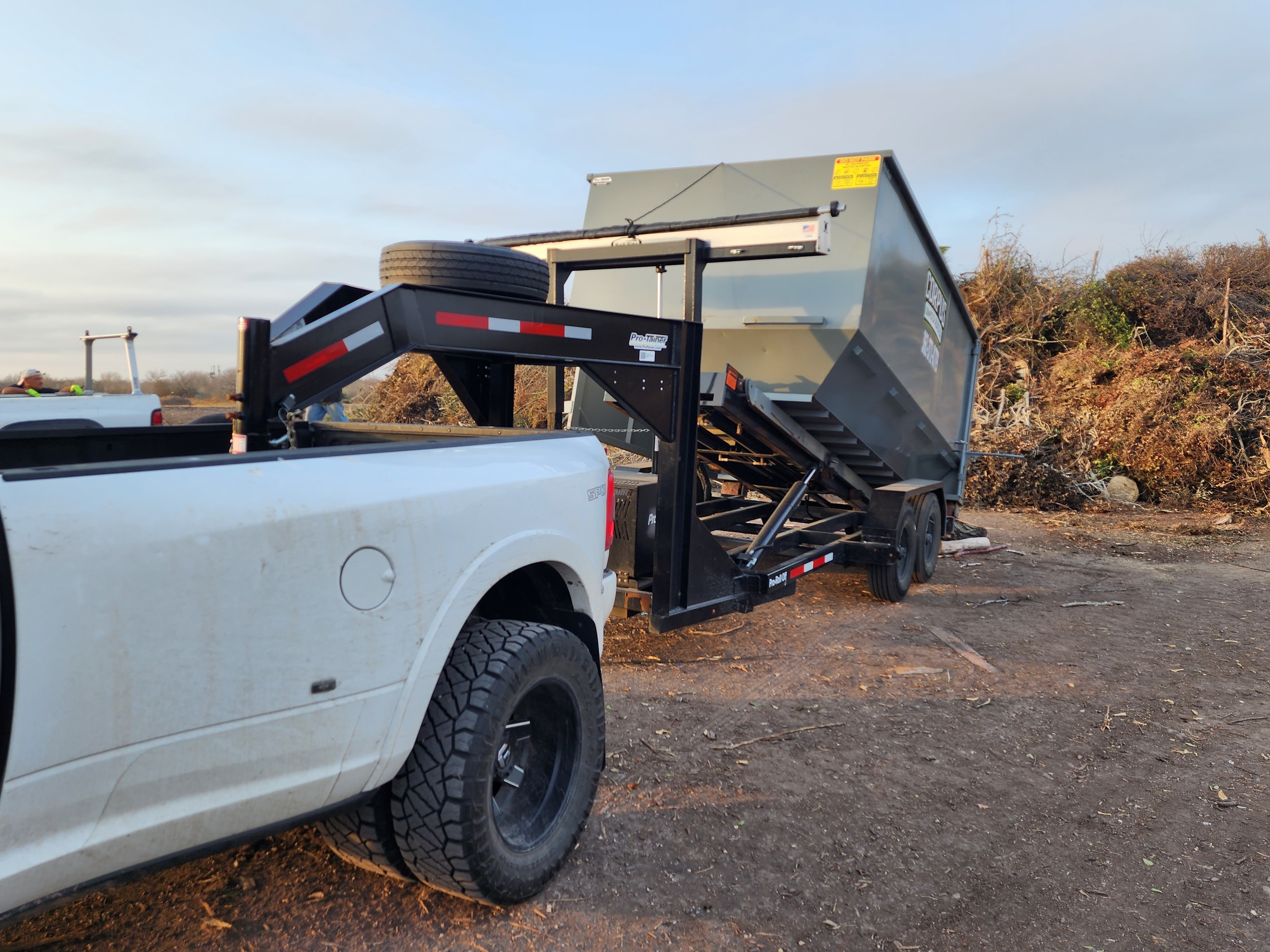 Choose the Best Calallen Dumpster Prices Available
Our Calallen dumpster prices and friendly customer support can't be beaten! We have no doubt that whatever your waste disposal goals are, the team at Corpus Dumpster Rentals can help. Take a look at our sizing guide below and book online today!

10-yard: Our smallest option begins at $250 for up to seven days of rental time with one ton of waste disposal included in the base price. This size is often rented out for smaller-scale residential cleanouts or repair projects.

15-yard: Our next available size begins at $350 for up to seven days of rental time with two tons of waste disposal included in the base price. The 15-yard is usually rented for landscaping efforts, flooring removal, roofing repairs, and smaller commercial projects.

20-yard: Our largest option, this unit begins at $450 for up to seven days of rental time with two tons of waste disposal included in the base price. We have no doubt this is the best 20 yard dumpster rental prices Calallen TX has to offer!

Whatever your waste removal project goals are, we're certain our three available options and Calallen dumpster prices will make your project as smooth and streamlined as possible. Get in touch with our staff if you have any questions or book online today!

Offering the Most Affordable Dumpster Rental & Junk Removal in Calallen TX and Surrounding Communities
We're proud to be the go-to choice for those searching for a dumpster rental near me Calallen TX. We regularly work with local construction companies, businesses, community organizations, residents, and the Calallen Independent School District to provide affordable and dependable solutions for their short or long-term waste management needs. Scheduling a dumpster rental in Calallen TX is easier than ever with our online booking tool. Browse our available options and schedule a delivery while on the go or from the comfort of your own home today!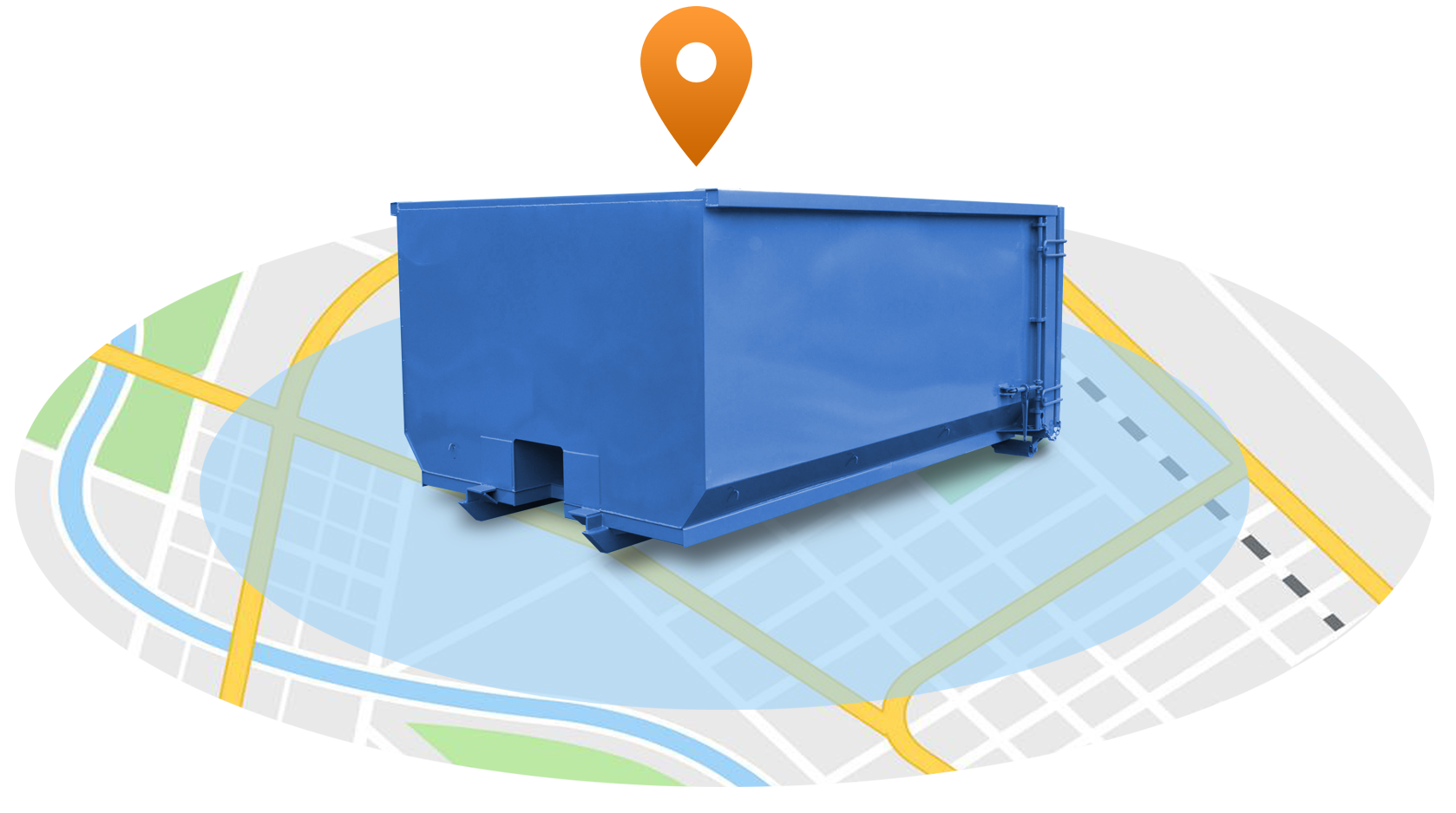 When you're searching for a reliable and reasonably-priced dumpster rental in Calallen TX, look no further than the selections and services from Corpus Dumpster Rentals! We're happy to deliver to the 78362, 78370, 78373, 78374, 78380, 78401, 78402, 78404, 78405, 78406, 78407, 78408, 78409, 78410, 78411, 78412, 78413, 78414, 78415, 78416, 78417, 78418, 78419 zip codes of Nueces County. Our services extend into the neighboring communities of Corpus Christi, Robstown, Portland, and Sinton. If you don't see your city or zip code listed above, contact our team to see if arrangements can be made to deliver a cost-effective dumpster rental in your area today.
Service Area
FAQs About Scheduling a Dumpster Rental in Calallen, TX
There are many factors to consider when deciding on the best dumpster rental in Calallen, TX to suit your waste disposal needs, so we've gathered a selection of frequently asked questions we receive from customers for you to browse at your convenience. Any additional questions? Get in touch with our team to learn more about our process and get on our books today!
Q.
What types of waste are accepted?
A.
Pretty much anything! Our commercial-grade bins are built to contain and haul tons of waste at once. We accept furniture, appliances, construction materials, yard waste, and general debris. In following local regulations, we cannot accept flammable or hazardous materials. If you're uncertain about the waste you need to dispose of, contact our team and we'll be happy to help.
Q.
How do I book a dumpster rental?
A.
Scheduling a roll off dumpster in Calallen TX is simple and stress-free with the help of our online system. Click on the "Dumpster Rental" tab in the menu bar to view available options and book your delivery in a matter of minutes. Any questions? Give our team a call at (361) 371-0779.
Q.
How much does it cost to rent a dumpster?
A.
If you're searching for a cost-effective price for renting a dumpster in Calallen TX, you're in the right place! Our prices vary depending on the size of the bin, the timeframe of the rental, and added costs like delivery area or extra tonnage. Our smallest container, the 10-yard, begins at $250 for up to seven days of rental time with one ton of waste disposal included in the base price. We know many of our customers are searching for a cheap dumpster rental Calallen TX can count on, which is why we do our best to keep our prices low and our standards high.